Do your kids want to meet new friends and have fun based on a quirky, hilarious, game-based book?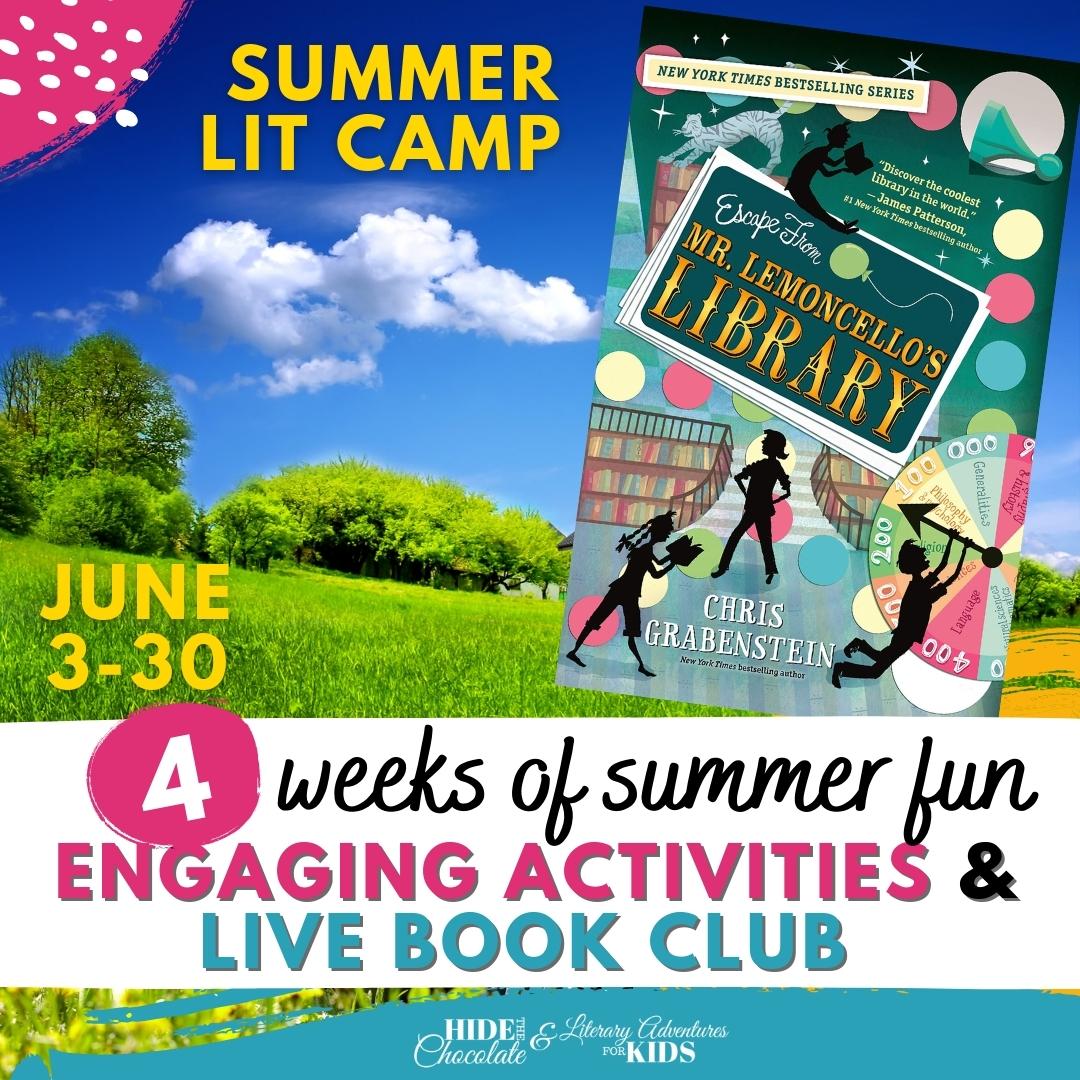 Then, let's have some summer reading fun with Mr. Lemoncello this June!
Welcome to Summer Lit Camp 2022
It's summer.


In theory, that means that I am leisurely sipping lemonade by the pool while the kids play together in a happy bliss-filled world.
In reality, it means I'm negotiating another remote-control hostage situation and using my not-so-inside-voice to threaten the next person who leaves their dirty dishes/clothes/half-eaten sandwich on the living room couch.
I need a way to survive the summer, and your typical summer reading program isn't going to cut it. I need real solutions.
Now don't get me wrong. I dig the idea of a summer reading program.
In fact, for years I planned it out. I would print out reading logs and tell the kids to read for at least 30 minutes each day.
It sounded quaint.
It sounded doable.
It sounded like a plan.
And, it was all three of those. The problem is that there's only so much motivation to be had from a free pizza or a certificate from the library. We needed a better plan — a plan that would inspire us and get our summer mojo back.
So how can you survive the summer without going stir-crazy?


Well, the easy answer is add some fun!
I created Literary Adventures for Kids with the sole purpose of inspiring kids to read by creating a fun and engaging atmosphere around literature.


And, what better place to start than during those summer months when boredom sets in and kids need something to capture their attention?
Engage Your Kids During The Summer With Great Literature at ...
Join me on an adventure into a fantastical tale about a boy and his escape from the coolest library in the world for your summer fun!
We're going to jump into some fun this summer with a fabulous and fun book by the amazing Chris Grabenstein, Escape from Mr. Lemoncello's Library!
Keep your kids delighted this summer with fascinating rabbit trails, engrossing literature, and engaging hands-on projects we like to call magic dust.
Check out the fun!
June 3, Kickoff: Let's start off with a bang! We'll meet in a live Zoom and get to know each other and our new book for the summer! I'll give you the rundown on how the online book club works, how to get the most of it and we'll get to introduce ourselves to Mr. Lemoncello and our library friends!
We'll also learn about the private community that has been set up just for our summer camp! (And, you don't have to join social media to access it!)
June 6-10, Week 1: We start our book club! You will receive a plan for the week in our private community. Use it the way it's set up or make it work for you and your family. The week will include reading, copywork, vocabulary, fun rabbit trails about libraries, games, Star Wars, and famous authors, and we will finish up with going on a library scavenger hunt!
June 13-17, Week 2: Log in to the community for this week's plan! This week will include reading, copywork, vocabulary, fun rabbit trails about famous statues, more games, and Egyptian holographs? We'll finish up by deciphering some rebus puzzles!
June 20-24, Week 3: When you log in to the community for this week's plan you will find: reading, copywork, vocabulary, fun rabbit trails about great songs, great books, great authors, and great... elevators? We'll finish up by playing board games!
June 27-30, Week 4: Log in to the community and discover what's up for the last week of our summer camp! This week will include reading, copywork, vocabulary, fun rabbit trails about books, buckeyes, three musketeers, and of course, bank vaults! (Um, what?) And this week we'll work on our writing project (I promise it's not horrible!) and play a game or two of Boggle!
June 30, Party School!: Every online book club must end with a PARTY SCHOOL!! That's right, we'll meet via Zoom to celebrate with food, decorations, and some activities! We'll talk about the book - what we loved and what we hated! We'll dig into our writing projects and then we'll have a little fun all while meeting our new friends.
Take a sneak peek into the course by clicking the blue 
Preview
 button below.
What is in an Online Book Club?
Rabbit Trails
We will go on rabbit trails of discovery. We will hop off the traditional roads of literature studies and meander down paths about pop-culture, history, biographies, poetry, music and more. We will take deep dives into some of the subjects touched on in the book and broaden our minds with new adventures.
Magic Dust
We will also bring literature to life by sprinkling a bit of magic dust along the way. These hands-on projects will take us into the book through science, art, games and more. We will touch, see, feel and learn about the book through the activities.
Vocabulary & Grammar
Every Family Online Book Club includes the chance to learn spelling and grammar through copywork and dictation. We will also discuss literary elements found in the book and use our new knowledge for a writing project.
Party Time!!
The pinnacle of the Family Online Book Club experience is the Party School! At the end of each literature study, we will celebrate the book with a party. Invite friends or family over for food and fun! All the ideas for food, decorations, and activities are included.
? Frequently Asked Questions
When does the camp start and finish?
The kickoff will be on June 3rd and the book club will be on June 30.
How long do I have access to the course?
After enrolling, you have unlimited access to this course for as long as you like - across any and all devices you own for the lifetime of Literary Adventures for Kids. So, you can continue to use it after the Summer Camp.
What ages of children is the book club for?
The book, Escape from Mr. Lemoncello's Library, has topics that would appeal to elementary through middle school.
How long should this book club take my child each day?
The book club is set up on a lesson by lesson basis. It can take as much or as little time as you and your child feel you want to spend. That said, each day should take from 30 minutes to an hour. However, I recommend you choose which projects will be a good fit for your child and not feel obligated to complete all lessons.
What supplies will we need?
You will need the book, Escape from Mr. Lemoncello's Library You may also want a notebook for notes and vocabulary. The project supply list is provided at the beginning of the course. You may choose which projects you will want to do.
Can my child work through this independently?
It will depend on the age of the child. Older children should be able to complete it independently. However, parents will need to be available to help with projects. I recommend parents review the course before their children begin.
Can this be used for more than one child or as a family summer camp?
Absolutely! We are a homeschooling family, and we encourage all our children to participate in book clubs. Often we will read the book together as a family read-aloud and then work through the rabbit trails and magic dust together.
What if I am unhappy with the summer camp course?
We would never want you to be unhappy! If you are unsatisfied with your purchase, contact us in the first 5 days and we will give you a full refund.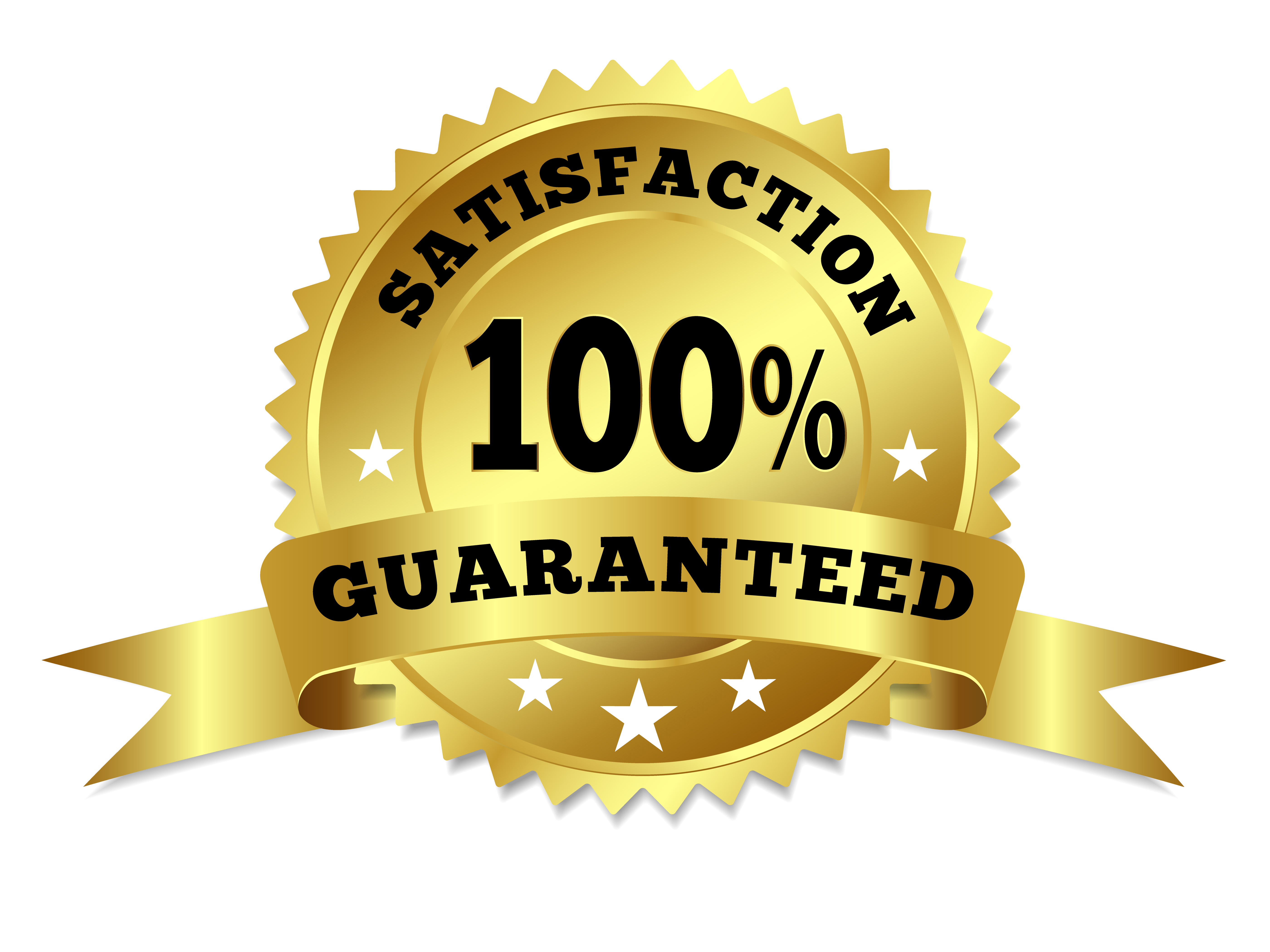 100% Satisfaction Guarantee
We understand that not every course is the perfect fit. Due to the digital nature of this product, we are limited in how long we can offer a refund. If you don't find that the course fits for your family, please let us know within 5 days of purchase for a full refund. After that time, we will not be able to offer a full refund.